Vân Nguyễn
Nguyễn Văn Tuấn, a resident of Hồ Chí Minh City's Bình Chánh District, has been out of work for three weeks due to COVID-19 and is struggling to feed his family of four.
His company had to close temporarily after tight social distancing regulations were imposed on businesses in the city.
"Working from home is a luxury that workers like us can't afford," said Tuấn.
"My wife and I were laid off and lost the primary source of income that we used to pay for food, rent and other expenses."
Now, thanks to new technology, Tuấn and hundreds of others are receiving support.
His family is renting a house in an area near Vĩnh Lộc 3 Industrial Zone in Bình Chánh District, home to more than 40 other households, most of whom are workers.
Not knowing when they can go back to work due to the complicated developments of the pandemic, the 34-year-old father-of-two looks for help to survive in the time of crisis.
After he filed a request for help for 44 households in the area, they received more than 100kg of radish, 440 eggs and 30kg of papayas from SOSMAP, an online platform that allows one to share their state of emergency and look for help.
Tuấn is among nearly a thousand people who have requested help from this platform since it launched a week ago.
Phạm Vi, founder of a technology solutions company in Hồ Chí Minh City, came up with the idea of connecting those in need, with people willing to help.
When a user clicks on the website sosmap.net, a map will pop out. Users decide whether they want to be "Người nhận" (Taker) or "Người cho" (Giver), then file a request for help or offer to help, providing their contact information as well as items they want to receive or donate, which can range from clothes, masks, gloves, protective suits to vegetables, rice, instant noodles and even cash.
After filling in the form, users will be contacted by a volunteer to verify their information.
English and Thai versions of this platform will be made available soon so expats can also join.
Vi said: "COVID-19 has put many people in difficult situations. They are out of work, can't leave their house and don't know where to look for help.
"It is necessary to have a platform to collect all the requests for help so charitable groups can deliver support to the right place."
Hundred of volunteers are joining to ensure the smooth operation of the project. They are in charge of taking calls, verifying requests and offers as well as transporting goods and arranging warehouses, the project's founder said.
Tonnes of food including vegetables and rice, along with VNĐ36 million (US$1,560) in cash have been donated to the project and already delivered to the needy.
Most of the people asking for help through the application are from Hồ Chí Minh City, requesting essential goods including food, vegetables and fruits, he said.
The majority are workers who have been laid off and have no source of income to cover daily expenses, or those living in areas under lockdown and having difficulty buying food.
Trịnh Thị Kim Liên, a marketing officer who joins the project as a volunteer coordinator, said they would prioritise serious cases.
"Many people are in dire situation," she said.
"They have literally nothing to eat and are desperate for help. They have no rice and live on food loaned from others. We give priority to these emergency cases and try to deliver support as soon as possible."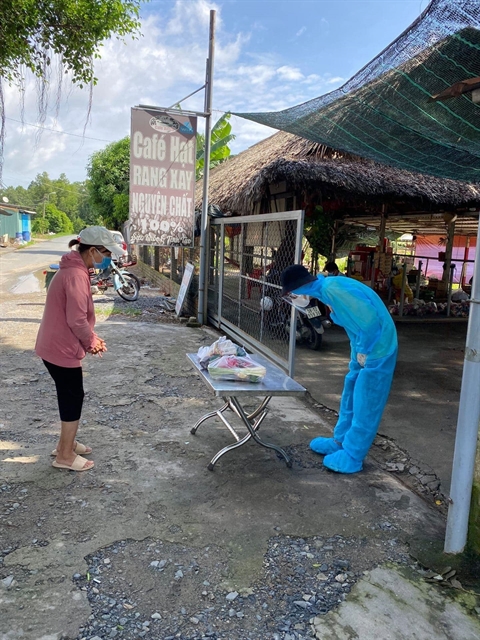 The project is receiving an increasing number of requests each day and has set up five warehouses in Hồ Chí Minh City and one in Bình Dương Province to store donated goods.
According to the country's General Statistics Office, in the second quarter of 2021, there were 12.8 million people aged 15 and over negatively affected by the COVID-19 pandemic, including those who lost their jobs, got furloughed, worked fewer shifts, reduced working hours and had reduced their income.
Among them, about 557,000 lost their jobs, 4.1 million people got furloughed/suspended production and business operations and 8.5 million workers suffered income reduction, according to the office.
More impactful
Vi has been engaging in a variety of community activities in many parts of the country. Through these trips, he felt an urge to come up with a more sustainable solution that could help a lot more people at a time.
When the natural disasters hit Việt Nam's central region last year, claiming more than a hundred lives and placing many in dire circumstances, Vi called on his friends to donate essential goods.
When he and his team arrived in hard-hit localities including Quảng Trị and Huế, they realised there was a big gap in supply and demand. Some places receive many donations while others got little attention because they were in remote areas.
Vi decided to integrate technology into his charity project to make it more impactful. He and his IT team developed a map showing locations where people need help.
As people in Hồ Chí Minh City grapple with the worst wave of infections, Vị decided to upgrade the map and put it into use to serve those in need amid the COVID-19 pandemic.
Nguyễn Thị Hồng Nhung, deputy chairwoman of the District 1's Red Cross often scans the District 1 area to check if there is any request and will work with local authorities to make sure they get help promptly.
She said: "One of the advantages of the platform is that the map helps users easily navigate and identify those in need very quickly." VNS